Friday – Winton, Queensland
I got away late this morning, and as I had not bothered to look at a map or route, I had no idea on the distance to Winton, via Boulia. I still figured I could do it though by late afternoon, even when I found out it was over 600km, that meant a constant speed, and I am good at that
The reason I was late out was because somehow I had broken another pin off the back of my Garmin GPS and I needed to get that repaired so I could download the tracks off it and to upload cache co-ordinates. It took a while but I got it done before heading south, this road is mostly single lane paved with a dirt shoulder and not many opportunities to pass if I got stuck behind someone, but over the next few hours I only saw about 3 cars all coming towards me and wonders of wonders I managed to get a tail wind for a while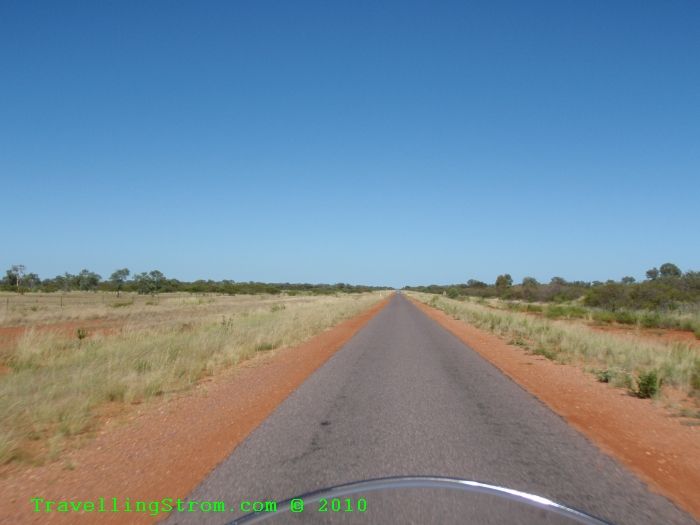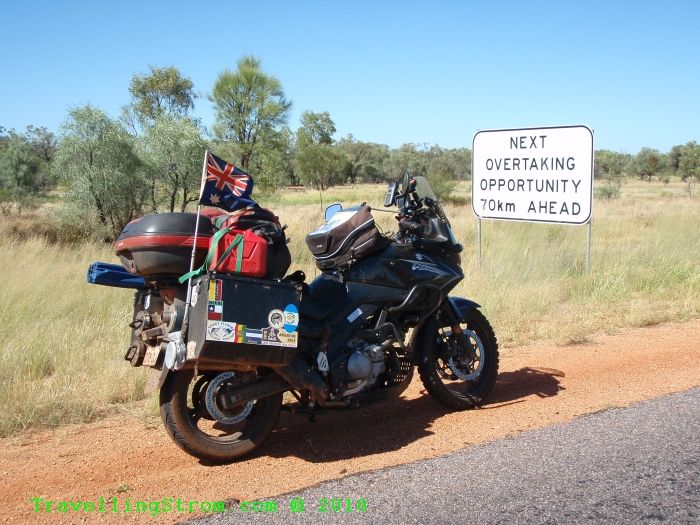 The next few hours were just ride and eventually I got to the turnoff to the Donahue Highway, this is the section of dirt that leads across to Alice Springs, the last part of the Outback Way, I don't trust that sign about the fuel, I have heard one of the fuel stops is closed, so in actual fact it is about 600km without fuel!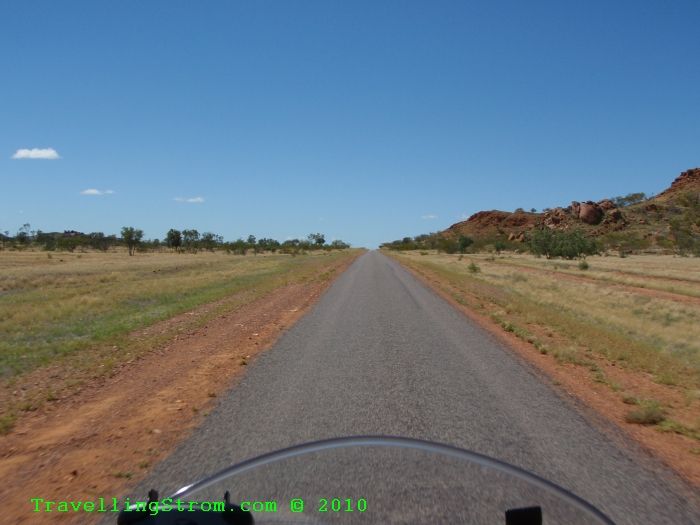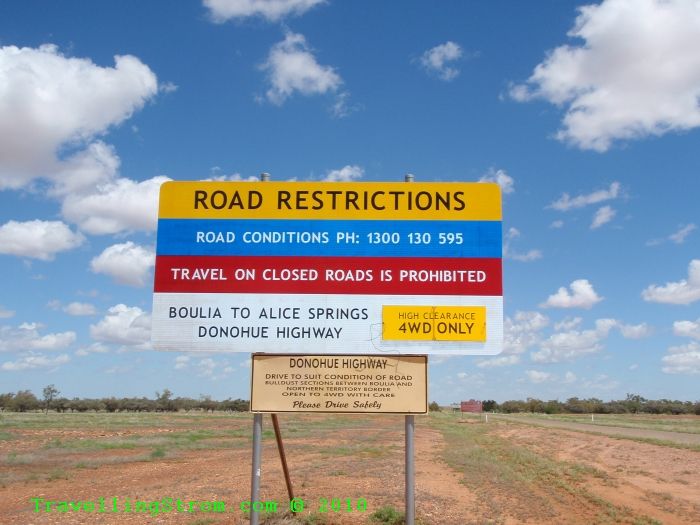 I filled up here in Boulia and grabbed a sanger before heading across a very full river and into the east where I may or may not get to see a Min Min light. The roads had been torn up on this side of the bridge and there was about 20km of dirt, some of it a bit slippery when the water truck was doing the rounds, I am glad it was not raining when I went through here, it looked like it could get a bit boggy! I nearly ran over 3 emus going across a floodway, but they hightailed it through the creek.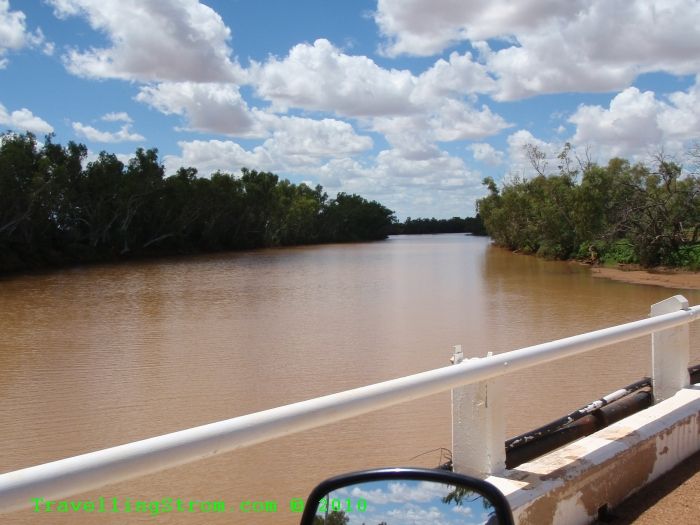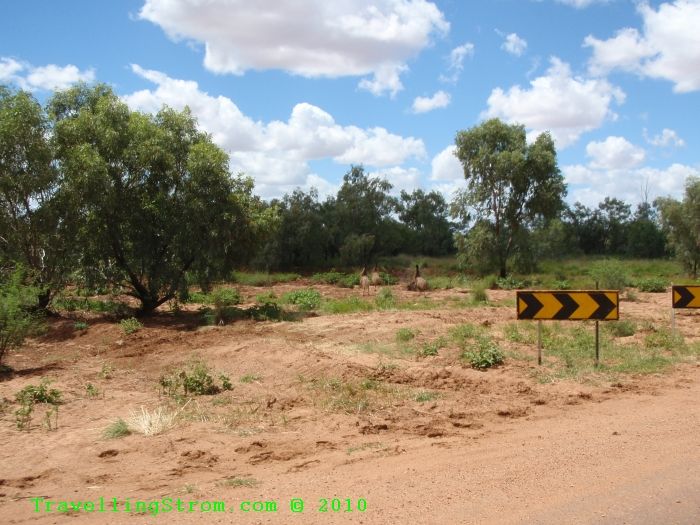 The roads were flat and straight again for a long way, before I came upon some nice terrain and a cache hidden somewhere amongst the hills.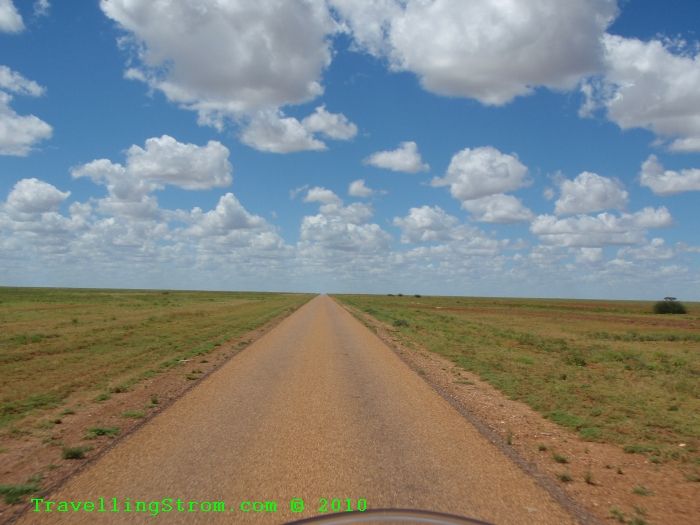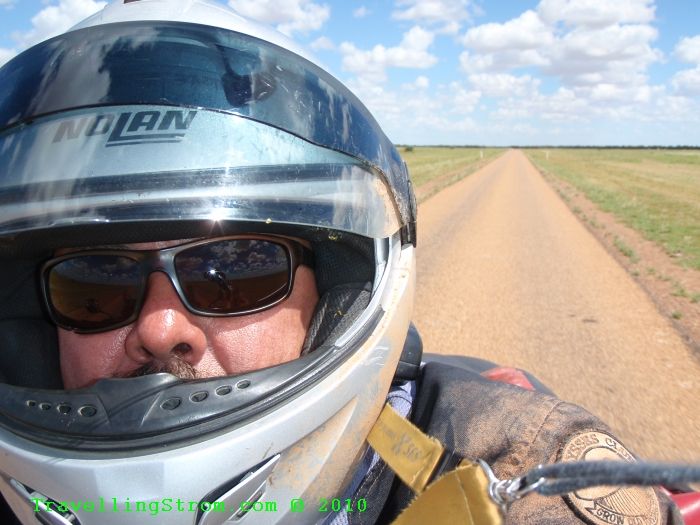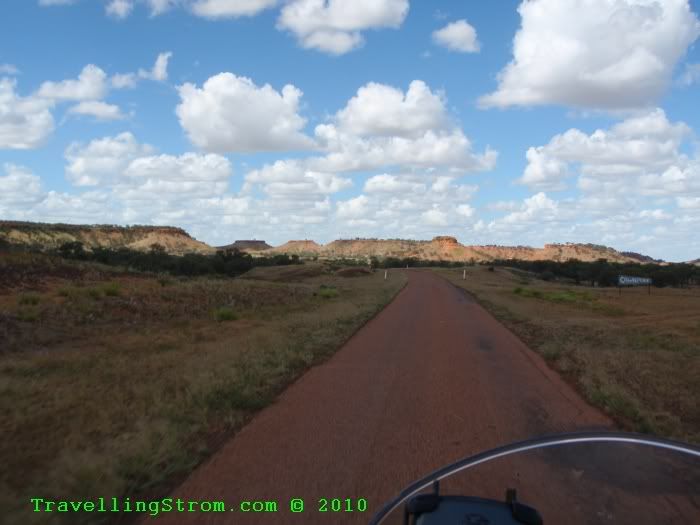 Now I did a stupid thing here, I rode up the damm road to the lookout before deciding it would be better with the bike down below, but I committed myself to the hill on the way down before seeing the washouts on the bottom at the corner!!!! I could not back out now as the bike was already on the down slope, which was rocky and loose, just the stuff I hate with a heavy bike!!!
Well, I was nervous as buggery but I had no choice and I am extremely grateful for ABS brakes, I was locking the back constantly trying to line up the front wheel at right angles to the washout and I am happy to say I got through it and did not go over the edge on the way around the corner. I needed a bit of a break after that so I had a hike up to the top of the mesa to find the cache and check out the spectacular views, before checking out the interpretive boards at the rest stop.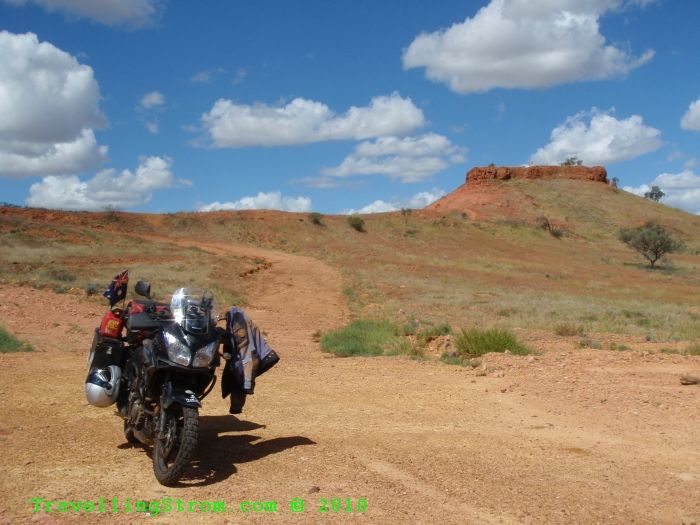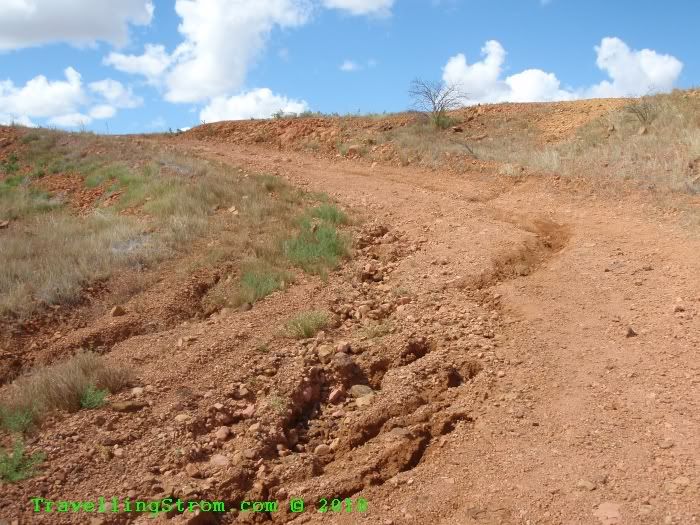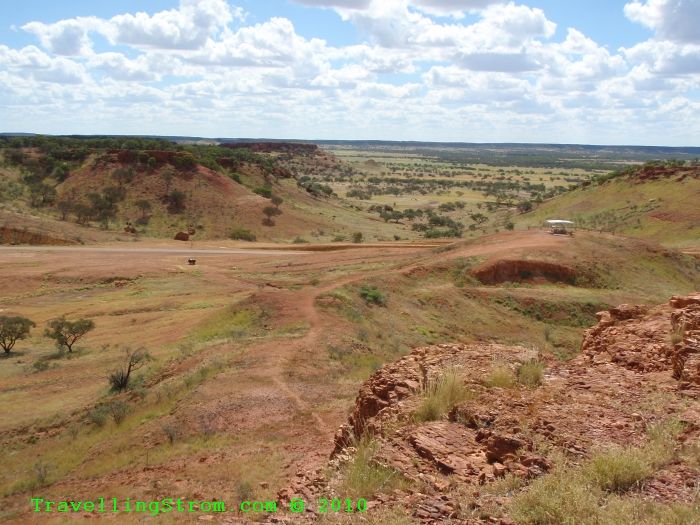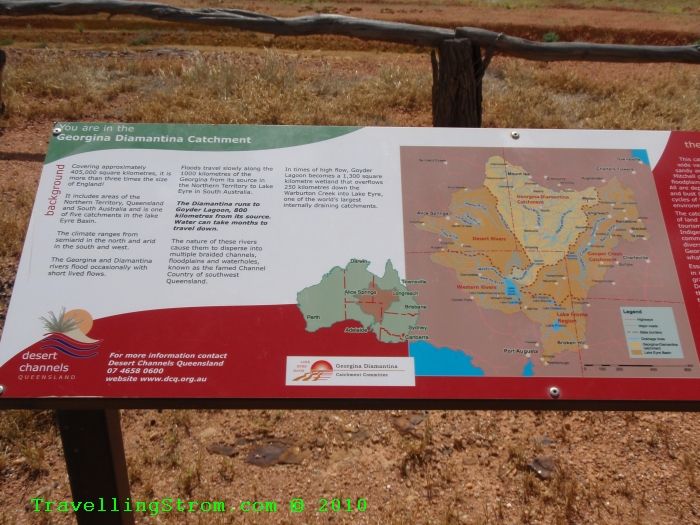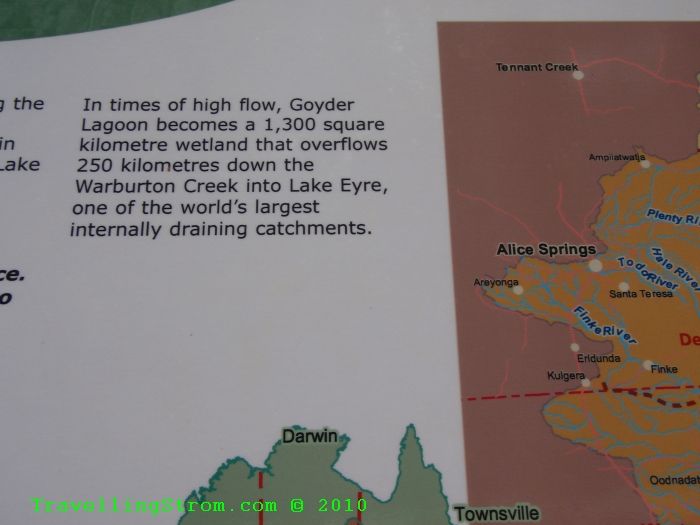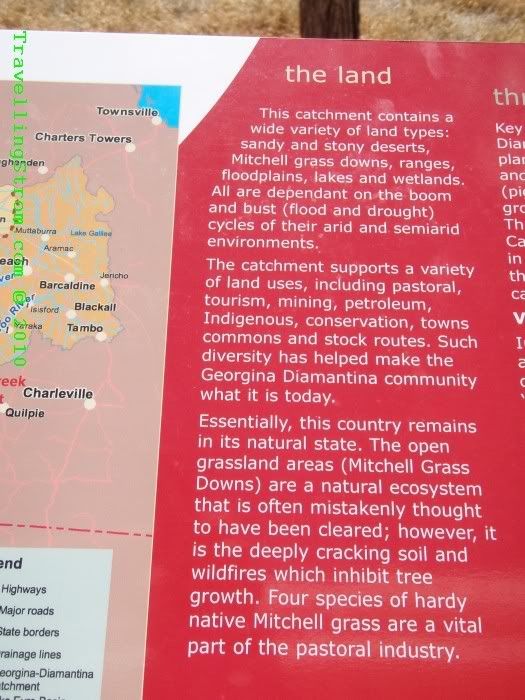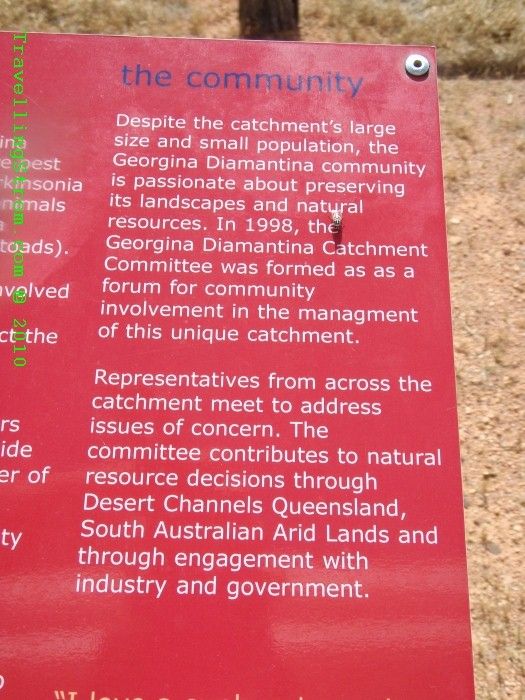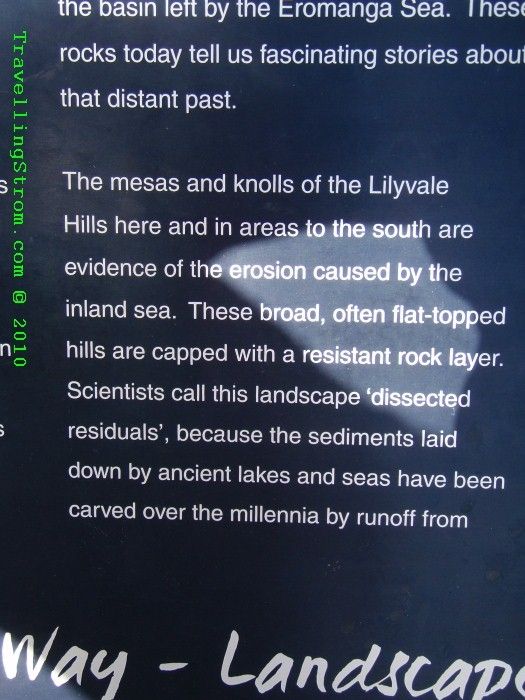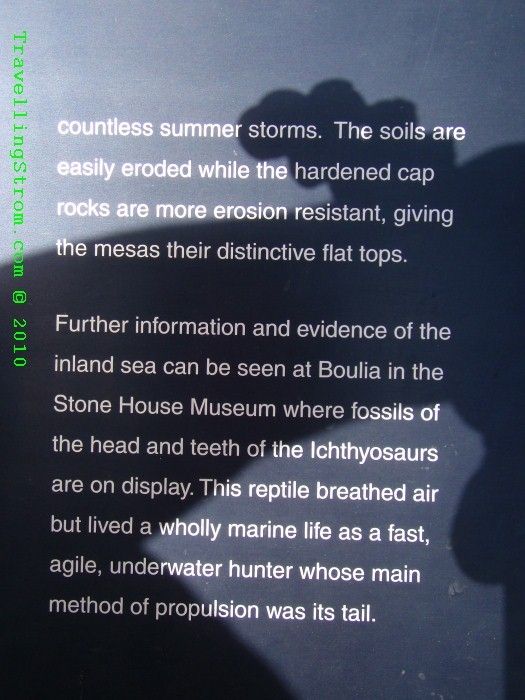 Once I had cooled down a bit I headed off once more, during all this time I saw no other vehicles and the next car I saw was about half an hour later coming towards me, not a nice hill to be trapped under the bike on in the heat out that way! I was running pretty hard now and into a head wind again and decided to save time by not stopping for a fuel stop at Middleton, instead I used the canned fuel I had with me. This turned into one of those time saving decisions which end up taking longer in the long run, just like a shortcut is the longest distance between two points! The reason I say this is because I was hoping to get into Winton around 5pm and was pushing to do so, this meant I used more fuel and in the end I ran out again, 2km from town, I could just about smell it, it was that close
Lucky for me a farmer drove into town at that moment, he took my fuel can back to the farm and filled it for me and didn't want anything for it when I offered, thanks a lot m8
That meant I was not that late after all and dropped in to see Butch and China at Central Motors, great people.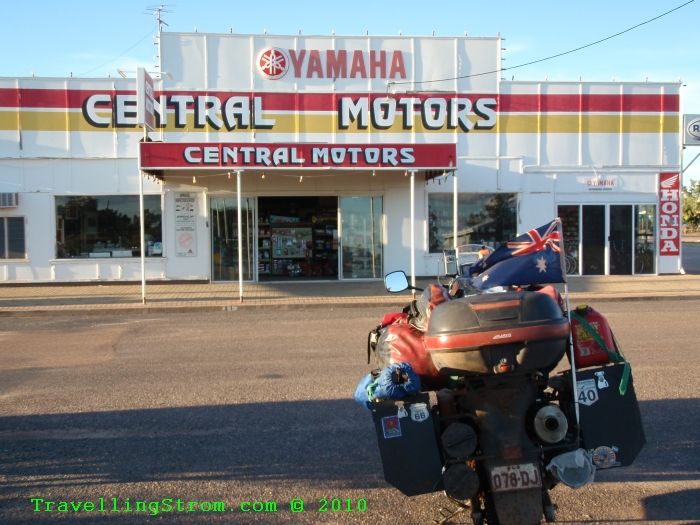 I had been planning on staying at the North Gregory, but they advised the same stupid lady is still running it, so instead I chose the Tatts and I was soon booked in and having a beer in the bar. No Optus service out here, so no chance of checking emails and such.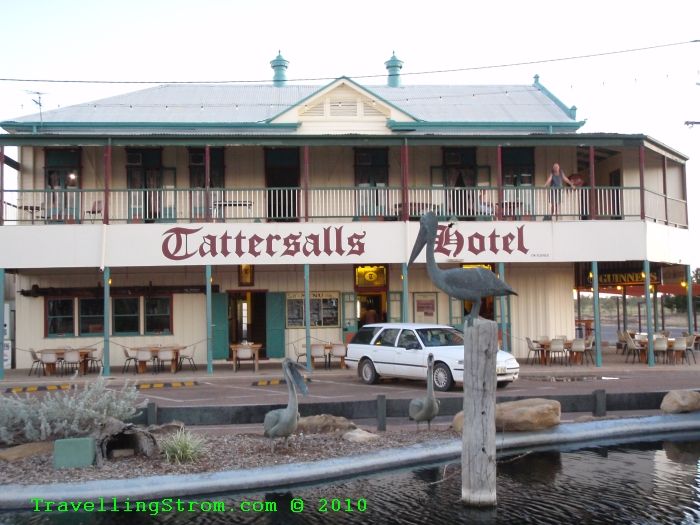 After a couple of beers and a feed I went up to the Winton pub to have a beer with Butch and also met Kevin the pub owner, it was a good night watching proper footy amongst friends
There was also an interesting sign on the wall, well one of a few anyway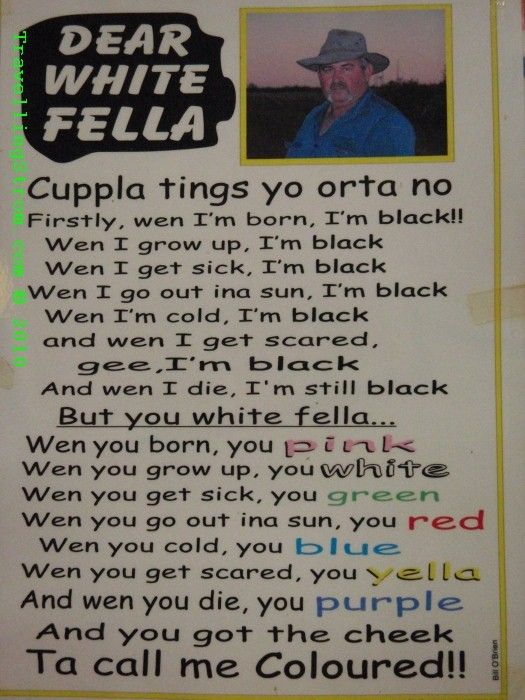 I nearly got locked out of my room, while I was heading back later that night, I passed the bar manager and after a short conversation, he mentioned that since the backpacker fires in Childers, the pub has to be locked up, so he leant me the outside door key to get back in, that was lucky

Day – 682 km and 424 miles
Trip – 9,283 km and 5,768 miles

Cheers
TravellingStrom
WORLD
Go to top of page
More...